Spectrasonics just released the v2.6 update for Omnisphere.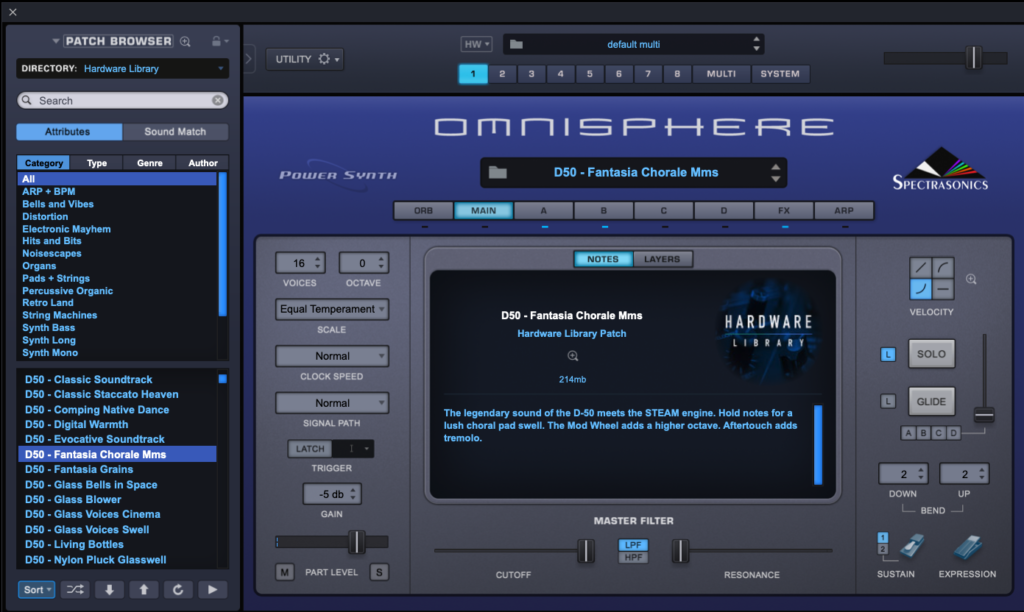 It has some cool new features:
The updated list of supported hardware now supports 65 hardware synths as controllers for Omnisphere – including the Roland D-50. This also means matching hardware sounds in Omnisphere for these synths. BTW – you don't actually need any of these synths to access their hardware samples in Omnisphere – although it's even cooler if you can. There's 1,600 new patches in the Hardware Library.
The Arpeggiator has been greatly upgraded with some cool new features, plus you can drag and drop MIDI patterns.
The Synthesis engine has been upgraded, with more layers per patch, more filters, more LFOs, more wavetables, enhanced granular synthesis, and improved control over modulation routing.
Drag and drop your own samples onto the interface to add them. Much simpler.
More sounds – 14,000 so far.
More effects units. There's now 57.
High-resolution graphics.
Live mode interface for touch screens
Enhanced Orb with attractor mode.
So – there's plenty there to play with. I've already written a new (slightly-80's) song within 24 hours of the update release just playing with some of the new patches.
If you already have Omnisphere 2, download this free update. If you don't have Omnisphere 2 yet – it's worth every penny just to have access to all those rare and expensive hardware synths.